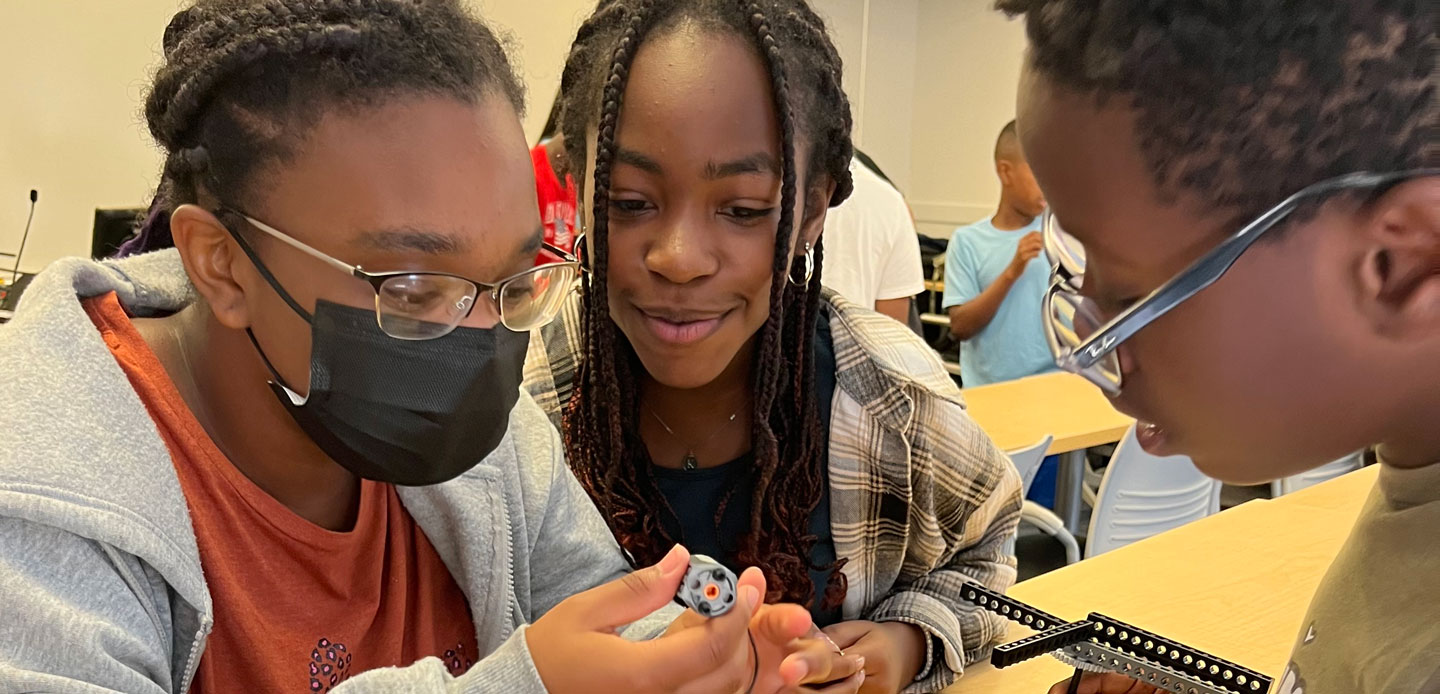 We believe the true value of math education isn't a number, but a power.
The Calculus Project (TCP) is a grassroots-style initiative to dramatically increase the number of students of color and low-income students who complete AP Calculus in high school. TCP is defined by its comprehensiveness, its very high expectations, its cultural sensitivity, and its commitment to sustainability.
TCP schools offer preparatory courses in the summer, and re-teaching/tutoring during the school year, supporting mathematics instruction from grade 8 through grade 12.
TCP schools intentionally group students of color and low-income students in the same class. Research shows this creates a more comfortable and productive academic environment for these students.
TCP schools offer after-school study groups with teacher support. This gives students the content knowledge, the skills, and more confidence to succeed in high-level math classes. The after-school study groups often evolve into student-run "beyond school" voluntary study groups, which is rarely seen with historically underperforming students.
The Pride Curriculum provides instruction on the historical accomplishments of STEM leaders of color.
TCP enables some students to become peer teachers during the 11th and 12th grades.
We believe that our vision is bigger than our work, but our mission starts with math.
The Calculus Project aims to help underserved students open the doors of opportunity. We are evidence-based and research-led, and the data shows that a student's mastery of mathematics is vital for their futures – both personally and professionally.
We work with school districts, program chairs, and industry partners to create a comprehensive community of support for students as they seek to understand and practice math.
(access + opportunity)a + (educators)b + (parents)c + (students)d + curriculum(math + pride) – bias policies – bias practices
Successful mathematicians of color
Each variable: a, b, c and d is > 0.
The Calculus Project was founded on these values for all involved:
Loyalty to family, classmates and community
Conduct yourself with dignity and respect inside the classroom and in the greater community
Ready to lead, ready to follow, never quit
Take responsibility for your actions
Excellent as students through discipline and hard work
Train for success and give back to the community
Own your learning
"Upon meeting with the cohort of Wayland students who had completed their first summer session with The Calculus Project, I knew right away that the program was a success. I knew because the students gushed with enthusiasm for the program and its staff, and most importantly for the study of mathematics."
Paul Stein, Superintendent
Wayland, MA Public Schools